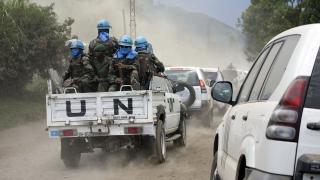 Mission Justice was started in late 2016 with the objective of establishing the idea that sexual violence by UN peacekeepers is a crime that requires a criminal justice based response, and pushing to make sure that states who are unable to prosecute perpetrators cannot contribute troops.
The campaign is now expanding its approach, acknowledging that prosecution alone will not provide a resolution to the problem of sexual abuse (SEA) perpetrated by UN peacekeepers - it will not necessarily restore trust between host population and peacekeepers, or indeed between the global public and peacekeeping, nor will it remedy the harm done to victims and survivors. 
By joining forces with the Together First campaign – which is pushing for civil society to be given a seat at the decision-making table of global policy – we will therefore also consider the interrelated questions of accountability, of the role of peacekeepers themselves, and of the nature peacekeeping as a whole.
As a first step, we have written to the Special Representative for Preventing Sexual Violence in Conflict, Lord Ahmad, urging him to use the opportunity of the Preventing Sexual Violence conference in November to promote a number of recommendations to improve the UK's, and the UN's, response to this issue.
Click here to read our update on the Mission Justice website.
Image: UN peacekeepers in the Democratic Republic of Congo, 2008, UN Photo/Marie Frechon.