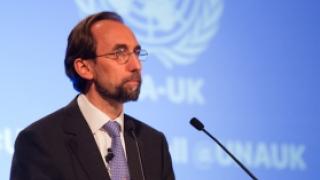 This speech was delivered by the UN High Commissioner for Human Rights, Zeid Ra'ad Al Hussein, at UNA-UK's commemoration of the United Nations' 70th anniversary in London's Guildhall on Friday 9 October 2015
Lord Mayor, 
Ladies and gentlemen,
In recent months a steady cadence of anniversaries has been tolling to mark some of the most cruel episodes in history. A year ago, the centenary of the onset of carnage in World War I, which once we thought would end all wars. Then the 70th anniversary of the liberation of Auschwitz, the largest of the Nazi concentration camps for the extermination of Jews, Roma, homosexuals and many others. In August, 70 years since Hiroshima, the first use of a bomb that obliterated even the atoms of human bodies, and burned the patterns of silk kimonos into their wearers' living flesh.
Today, those memories, in the sense of lived experience, are dimming. Women and men who were 15 years old in 1945 are now 85. But as they disappear, what they lived – the lessons that humanity learned with that generation – cannot be allowed to fade away.
These anniversaries do not only teach us pity for the gruesome suffering and broken lives of our forefathers. Not only wonder at the courage and resilience that so many displayed. But also the arduous work of real statesmanship, which is grounded in far-sighted principle; and the certainty that any search for solutions will be shallow and ineffective, if it is not profoundly rooted in justice.
There was another anniversary this past summer, almost in counterpoint to the terrible commemorations of wartime destruction: the 800th anniversary of the Magna Carta, which limited the absolute authority of sovereigns and established the ideal of an impartial and just rule of law.
And it may not be too fanciful to state that the place those anniversaries lead to is here: the 70th anniversary of a new attempt to found a different kind of world order, more peaceful and more just.
For with the founding of the United Nations, a fundamental sea-change took shape across the world, as it was recognised that human rights, and the rule of law, are, and must be, the top priority for every country. The basis on which truly resilient and stable societies can be built was outlined in the Universal Declaration of Human Rights – probably the most resonant and thoughtful international agreement of the 20th century. Freedom from any form of discrimination – whether based on sex, race, belief, sexual orientation or any other factor. 
Freedom of expression, and the right to privacy. Freedom of thought, conscience and religion. Freedom from torture. Freedom from unlawful or arbitrary arrest or detention. The right to life, liberty and security of person. The right to education, to health, to food, shelter, clothing and social security – the care, when we are fragile, that every human being deserves. And the right to a fair trial.
These are the values that build stability, development and peace. When the world's leaders came together at the birth of the United Nations, they knew this – knew that if peace and development were not underpinned by a powerful commitment to achieve human rights, the world would once again, and swiftly, lurch into chaos and war.
But they were reluctant internationalists, compelled both by reality as well as by idealism to devise ways in which they could regulate their affairs together. They remained jealous of their sovereignty, suspicious of each other's power, bound by the national interests of their geopolitical positions and by the personal aspirations of their frequently despotic elites.
So with one hand, they sketched out an international rule of law, and a network of global governance to address, collectively, issues where they knew that, individually, they would fail.
But with the other hand, those same states pulled back from wholehearted commitment to the cloudless horizon of collective action. The UN came together in ad hoc, complex, imperfect ways, groping towards important solutions through a spiky underbrush of defensive stakeholders.
Has the UN failed? Many times. In Bosnia and Herzegovina, in Rwanda, and as we speak today, the massive failure in Syria. There is a disgracefully long list of places where violations of human rights have not been prevented, and turmoil has metastised into chaos, bloodshed – even genocide. In fact, almost the first human rights crisis that it grappled with – the question of Palestine – remains unresolved. Over the past 70 years, millions of people have suffered unnecessarily, and died painful, untimely, deaths that could and should have been prevented. This shames our world, not only the UN – for it is not, after all, a world government, but a meeting ground for the world's governments.
Still, there is no shadow of a doubt in my mind that the UN has been a great deal better than the alternative – which is, to put it plainly, nothing.
Sir Winston Churchill, who was profoundly engaged in fashioning the UN Charter, said its "supreme task and duty is to guard the homes of the common people from the horrors and miseries of another war". If the UN were to collapse, Churchill said, there would be a Third World War – "The dark ages may return; the Stone Age may return, on the gleaming wings of science; and what might now shower immeasurable material blessings upon mankind, may even bring about its total destruction."
By that not inconsequential standard, the UN has succeeded. It has warded off the spectre of global, nuclear warfare.
There is far more. Multiple conflicts have been resolved or prevented in the past 70 years thanks to UN mediation, adjudication or intervention. National independence has been assisted and promoted. There has been unparalleled, though incomplete, progress on recognition of the rights of groups of people who for centuries had been marginalised – including women, people of African descent, and LGBTi people.
Unprecedented advances in health, in wealth, in education, and in the ability to make decisive personal choices have immensely improved the lives of enormous numbers of people, particularly the most vulnerable. There has been investment in the development of the global South on a scale, and of a complexity, that would previously have been inconceivable, with far greater emphasis on practical work to ensure equality, health and opportunities for women, and a better habitat and environment for all. Our new Agenda for Sustainable Development renews and strengthens the universal commitment to work together to wipe out poverty, and leave no one behind.
The human rights landscape has changed vastly in the last 70 years. Most vitally, states freely and universally accepted the principle that although they are entitled to organise themselves as they wish, they may not do so at the expense of fundamental human rights. They went on to fashion and voluntarily submit themselves to binding rules which established the necessary protection of individuals and groups – rules that they knew to be invaluable to peaceful, collective co-existence. Treaties were adopted, detailing universal norms, with implementation systems including regular, independent review or monitoring of every signatory state. Some even provided for the right to individual complaints by ordinary people – who now, for the first time, had formal access to remedy beyond their own borders. International criminal law developed, by fits and starts, with tribunals convened to hold perpetrators accountable for mass atrocities and international crimes.
And each addition to the great body of international law bound our global community closer together.
International Commissions of Inquiry, often supported by my Office, and multiple other forms of expert review now seem almost routine, where 70 years ago such things were unimaginable. One example: today the Human Rights Council, through its Universal Periodic Review, scrutinises in detail the human rights records of every one of the 193 members of the UN, in turn, every four years. This tremendous shift in mind-set creates a heightened awareness, and a degree of constant pressure on transgressor governments, including the knowledge that they may be held accountable for human rights violations.
The process of creating and evolving a United Nations has relied, throughout, on the diplomatic dexterity, the principles and the commitment of several countries. Britain is among them. I have spoken of Churchill, who struggled valiantly at the outset to ensure that both the United States and the Soviet Union would remain within the UN. Let me turn now to David Maxwell-Fyfe, one of the Nuremberg prosecutors, who after cross-examining Göering and Ribbentrop went on to guide the drafters of the European Convention on Human Rights.  
The Nuremberg Trials, when we re-read the transcripts today, still have the power to shock.
How easy it appears to be to slip into unspeakable brutality, as the space of fundamental freedoms is asphyxiated. The European Convention on Human Rights was constructed on this experience, to prevent the crimes of the past, and it incorporated – the marks are still clearly visible – the older liberties of British common law.
The strength of the Convention, unique at its time, was that it set up machinery to monitor its implementation, in the shape of the European Court and the Commission of Human Rights. 
The European Court went on to become a permanent court, among the most internationally respected tribunals of modern times; it has been the model for regional human rights courts in Latin America and Africa, and its jurisdiction stretches today from Iceland to Turkey.
The improvements in British practice and police that have been inspired by the European Court include stronger protection against child abuse; enhanced rights of people with disability, including mental disabilities; better care for the elderly; broader sexual orientation rights, including of gays and lesbians in the military, and the abolition of corporal punishment in schools.  
Recently, the Government has announced it plans to "scrap" the Human Rights Act. This proposal may have very significant impact on access to remedy for victims of human rights violations within the jurisdiction of the UK. If Britain – a key member of the Human Rights Council; a founding member of the UN; and a privileged, permanent member of the Security Council – is considering a move that will potentially weaken a vital regional institution upholding fundamental human rights guarantees, this would be profoundly regrettable; damaging for victims and human rights protection; and contrary to this country's commendable history of global and regional engagement.
Moreover, many other states, where civil society is currently threatened, may gleefully follow suit. Surely this is a legacy no British government would wish to inspire.
The planet's population has more than tripled since the UN Charter was written, and its drafters would certainly be shocked if they could see the convulsive chaos of so much of the world today. We face massive emergencies, and yet our humanitarian operations go unfunded – virtually guaranteeing that this suffering will cascade into more and more countries and lives.
Several states appear to be undergoing a process almost akin to nuclear fission, collapsing inwards and fragmenting into defensive and violent communities – a landscape that presents extreme difficulties for an organisation accustomed to assisting victims of external aggression, not internal collapse. We are dealing with failed states, vicious internal wars,  and also – as the Secretary-General recently told the Security Council, "the silent crises – grinding poverty, hunger, inequality, discrimination and other threats to people's lives and dignity" – all of them the nesting ground for more violent extremism, and more conflict.
In Syria, the Security Council, which has primary responsibility for international peace and security, has been paralysed. Much of the Middle East and North African region is gripped in deadly conflict, with far-reaching implications. The crisis in Ukraine casts a long shadow across Europe. New violent extremist groups terrorise populations under their control by seeking to stamp out every form of dissenting thought or behaviour, and use their nightmarish brutality almost as a recruitment technique. Many countries around the world have failed to build political institutions, judicial systems, and economies that allow ordinary people to live with dignity. And increasingly, we see states curtailing human rights under the profoundly erroneous impression that mass surveillance and repression of dissent will somehow defeat the threat posed by terrorism and violent extremism.
Today, migration has become a massive and violent tragedy scarred by poor governance in both countries of destination and those of origin. Crossing a border without a visa should not be considered a crime – particularly in the case of people fleeing for their survival. Sharp fences patrolled by heavily armed police with dogs and tear-gas will only lead to more deaths, because desperate people will be forced to seek other, more precarious routes. All migrants are human beings, and regardless of how they arrive at borders or where they come from, they have the same human rights as you or I.
I am shocked, too, by continued resistance to the equality of women in many parts of the world, an affront to every fundamental principle in the UN Charter. After 70 years, we continue to deplore sexual and gender-based violence, and practices – and even laws – that give less freedom, choice and opportunity to girls and women. Removing the barriers that keep women and girls on the margins of economic, social, cultural and political life must be a top priority for us all; and here the UK has once again offered invaluable assistance to the efforts of the UN.
If we step back in time to the era before such international institutions, we see more clearly what, exactly, we have gained with the United Nations.
The era before World War I, for example, when diplomatic relations were often based on secret treaties; when countries stampeded into panics of competitive armament and ultimately, into butchery on the battlefield. Or the era before World War II, with a League of Nations amputated of several key members, who either refused or were not invited to join a body that curdled into impotence.
The UN is universal in membership; few are the countries that have suspended participation, even for a few months. Its agenda is comprehensive: it spans not only the prevention of war, but also disease, poverty, ignorance, and inequality; and these programmes are interlocking, with the core goal of human rights protection connecting both development and peace. 
Today, in the face of turmoil, we need to strengthen our international values and principles – not erode them. Our small, dense, interconnected world continues to stand thanks to the lessons learned by the women and men who survived World War II; and if we neglect or dismantle the dykes that they built against such disaster, we will place ourselves and our children in terrible danger.
Photo: UN High Commissioner for Human Rights, Zeid Ra'ad Al Hussein, speaking at event hosted by UNA-UK to commemorate UN's 70th anniversary in London's Guildhall. Copyright UNA-UK