You are here: UK commits troops to UN peacekeeping missions in Somalia and South Sudan
28 September 2015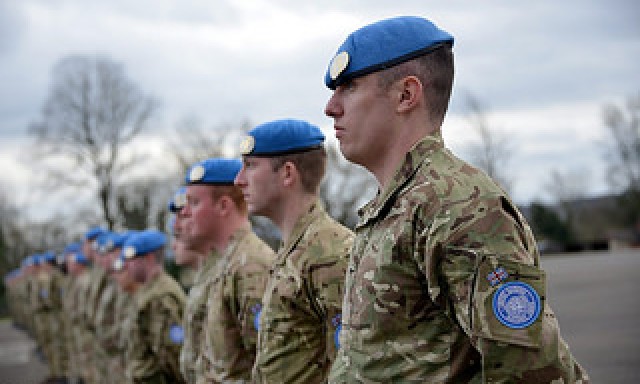 Prime Minister David Cameron has announced that the UK will deploy troops to UN peace operations in South Sudan and Somalia ahead of a major international summit on UN peacekeeping. 
The Prime Minister has said that up to 70 British troops will be deployed under a UN flag to Somalia to support the African Union force. They will provide medical, logistical and engineering support to the mission, which works to build stability and counter the threat posted by Al-Shabab, a terrorist group. 
In addition, 250 to 300 UK personnel will participate in the UN Mission in South Sudan (UNMISS) over the course of multiple deployments in the near future. The exact number will be determined in cooperation with the UN. These troops will be responsible for carrying out vital engineering, training and advisory tasks to support the 12,000 other international uniformed personnel and 2,000 international and local civilian staff already on the ground.
UNMISS was established by the UN Security Council in 2011 and has been renewed annually, with a current focus on implementing a peace accord between the warring parties and on protecting civilians. The peacekeeping bases in South Sudan are currently providing a safe haven for over 100,000 civilians.
The Prime Minister stated that the "commitment to peacekeeping operations will help to alleviate serious humanitarian and security issues in Somalia and South Sudan, helping to bring stability to the region and preventing these challenges from spreading further afield". 
The announcement preceeds a US-led Leaders' Summit on Peacekeeping on Monday 28 September, where governments are expected to announce significant new contributions.
UNA-UK has long campaigned for the UK to contribute more meaningfully to UN peace operations and has been working concertedly on this issue since June 2014. The announcement represents a significant success for our campaign. UNA-UK welcomes the news that the UK will be deploying practical support to missions in Somalia and South Sudan. UK expertise and capacity-building will help to improve the efficiency of these missions, while also increasing the UK's international standing in matters related to the UN's peacekeeping system. 
Nevertheless, the Britain still requires a more strategic approach to the UN. In its upcoming Strategic Defence and Security Review, the UK Government should set out how UN peace operations fit into the UK's wider international strategic aims. 
More on Keeping Britain global, Peacekeeping