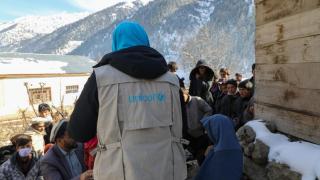 The Taliban's ban on female workers in Afghan-based United Nations (UN) offices contravenes the UN Charter and international law, threatening the UN's ability to work effectively and putting the lives of vulnerable people at risk.
Three months after a ban on women working in non-governmental organisations, this latest development in the institutionalised gender-based discrimination by the Taliban risks the safety and livelihoods of Afghan women employed by the organization.
The UN employs approximately 400 Afghan women inside the country and a recent update on the human rights situation from the UN Assistance Mission in Afghanistan (UNAMA) reported that "several UN national female personnel have experienced restrictions on their movements, including harassment, intimidation, and detention". The UN initially instructed all its Afghan staff, regardless of gender, not to report to its offices until May, though it is understood that this has now been lifted.
In response, UN Secretary-General Guterres denounced the Taliban's ban as a violation of the UN Charter's core principle of non-discrimination, prompting serious debate about whether the UN should remain operating in the country at all. While many consider it untenable for the UN to operate under conditions that contravene the Charter, to cease any UN activity would exacerbate the vulnerable and life-threatening situations facing millions of people dependent on humanitarian assistance.
The UN has reported that humanitarian efforts inside Afghanistan aim to reach approximately 23 million people in 2023. The United Nations Children's Fund (UNICEF) alone aims to reach 19 million people this year to provide urgently needed care for malnourished children. Without female staff able to work UNICEF has reported that "the humanitarian disaster unfolding inside Afghanistan will intensify, and more children will die."
The UK Ambassador to the UN has denounced this move as the Taliban placing "medieval misogyny above humanitarian need." UNA-UK calls on the UK Government to stand with the people of Afghanistan, beginning with a reversal of its decision to reduce aid going to Afghanistan. Aid reduction continues to have a detrimental impact on gender equality programming, standing at odds with the Government's new global strategy of women and girls.
The UK has a long history of involvement in Afghanistan and is therefore duty bound to support Afghan citizens in the face of persecution from the Taliban. We urge the government to create safe and legal routes for Afghans to seek asylum in the UK, something they have so far failed to provide.
The situation in Afghanistan, the rise in violent conflict and the backsliding on human rights worldwide - in particular the rights of women and minorities - require states like Britain to champion and expand norms and standards of protection globally. We urge the UK to rethink its short-sighted policy-making, reverse its proposed inhumane, illegal and unworkable asylum legislation and re-establish Britain as a global leader on development. 
Photo: A UNICEF aid worker in Afghanistan. Credit: UNICEF/UN0574446/Fazel