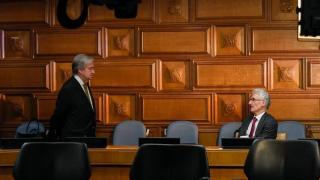 Over 50 former diplomats, parliamentarians and civil society leaders have signed an open letter to Prime Minister Boris Johnson calling on him to champion an open and inclusive appointment process for the UN's Emergency Relief Coordinator (ERC), the UN's most senior humanitarian official.
The letter, coordinated by UNA-UK, urges the UK to encourage the UN to follow due process and conduct an international search which ensures the strongest possible field of candidates for this crucial role.
In the past, appointments for this position and other top UN roles have been informally "ringfenced" for individuals who are nationals of certain countries that hold influence over the global organisation. In a recent article we noted that, contrary to recommendations from the General Assembly, the previous four ERCs have all held British passports.
Signatories joining this call from across the political spectrum include Sarah Champion MP, Chair of the International Development Select Committee, former Secretaries of State for International Development, Andrew Mitchell MP and Clare Short; SNP Spokesman for State for Foreign and Commonwealth Affairs, Alyn Smith MP, and Lord Purvis of Tweed, Liberal Democrat International Development and Trade Spokesman. 
A number of British former UN officials and diplomats have signed, including Lord Mark Malloch-Brown, former UN Deputy Secretary-General, Sir Kieran Prendergast, former UN Under-Secretary-General, former UK Permanent Representatives to the UN Sir Jeremy Greenstock and Lord Hannay of Chiswick, as well as a host of the most experienced humanitarian and development officials to have served the UN around the world.
In addition, a number of high-profile voices from civil society backed this call, Dr Sara Pantuliano, Chief Executive, ODI, Dr Danny Sriskandarajah, Chief Executive, Oxfam GB, Madeleine Rees, Secretary-General, Women's International League of Peace and Freedom, Dr Kevin Watkins, Chief Executive, Save the Children UK and Bishop Declan Lang, Chair of the International Affairs Dept of the Catholic Bishops Conference of England and Wales. 
They write:
"Over the past decade 20% of roles at Under-Secretary-General or above have gone to nationals of the Permanent Members – nearly 10 times higher than is proportional. "Ringfencing" roles excludes a large swathe of global talent and creates a perception of partiality, which can undermine the appointee's authority and compromise the Secretary-General's independence."
While responsibility for the appointment resides with the UN Secretary-General, influential Member States, including the UK, have significant sway over this decision. As an advocate of accountability and inclusivity on other appointment processes, the UK is well placed to encourage a merit-based appointment process. In doing so, the UK will strengthen the international rules-based system and help ensure the legitimacy and authority of the vital role of Emergency Relief Coordinator.
The deadline for candidates to apply for the role is 15 March. We hope this powerful call for transparency and inclusivity will raise awareness of the need to put the humanitarian imperative above politics and for the UK to support a merit-based recruitment process for this role and across the UN system. In doing so, we call on the UK to live up to its mantra of a "Global Britain" that seeks to strengthen the rules-based international system with the UN at its heart. 
Read more:
Photo: Secretary-General António Guterres (standing at left) and Mark Lowcock, Under-Secretary-General for Humanitarian Affairs and Emergency Relief Coordinator, take part in the high-level pledging event for the humanitarian situation in Yemen. Credit: UN Photo/Evan Schneider