You are here: Making atrocity prevention a priority
6 April 2018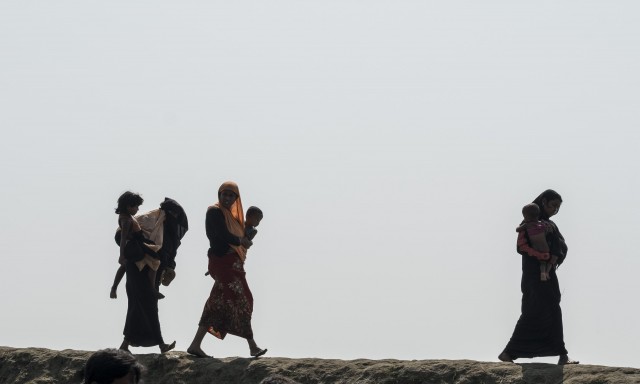 The UK needs to prioritise atrocity prevention if it's to save lives and face.
This blog by Laurel Hart, Outreach & Campaigns Officer, was originally published on Medium on 6 April 2018.
As horrors take place in Yemen, Syria, and Burma, to name just a few, the international community's lack of any meaningful action has become an unsettling global trend.
It is now 13 years since all member states at the United Nations agreed that they had a "primary responsibility to protect" populations from atrocity crimes. Yet the majority of today's refugees are fleeing from the very crimes that the international community has committed to protect them from.
Places where these crises erupt, from Libya to Yemen, Burma to Syria, reveal how immense and far-reaching the human, social and security costs are. Mass atrocities destabilise countries, regions and the wider world; people flee their homes and require outside assistance; economic growth is reversed for entire regions and violence transcends national borders.
In some places the UK is not doing enough, in other places it is part of the problem. Yemen is one of the latter cases. More than 3 million Yemenis have been displaced. An estimated 22.2 million people – over three quarters of the population – require humanitarian assistance. Cholera is rampant, and a child dies every 10 minutes. The Saudi-led intervention recently entered its 4th harrowing year and despite several temporary ceasefire agreements, and sporadic UN-brokered peace talks, Yemeni civilians continue to bear the brunt of the war.
Where is the UK's response? By selling weapons to Saudi Arabia for its bombing campaign on Yemeni soil, the UK shows itself to be a nation willing to secure trade deals at the cost of human life. The UK Government has got to change tack or risk being found on the wrong side of a historic man-made human catastrophe.
Yemen is a foreign policy blunder. But even when the UK is not risking complicity its approach to atrocity situations is piecemeal and lacking in strategic direction. Recent parliamentary inquiries have exposed the UK as failing to ensure adequate prevention strategies that could have better protected and prevented crises.
Applying an atrocity prevention lens could also prevent the UK from making the kind of mistakes it is making in Yemen. The lack of a cross-Government mechanism to prevent and address mass atrocities has given rise to actions that have on occasion been inconsistent - or in direct contradiction to - the UK's commitments to human rights, atrocity prevention and policies on development and arms sales.
Making atrocity prevention a firm foreign policy priority would serve the UK better if it wishes to develop a reputation as a positive force in the international arena. With other states, seemingly retreating from the international stage, the UK has a chance to assume a greater role in pushing forward an atrocity prevention agenda at the supranational level. A concrete strategy, which a "Joint Unit" (between the Foreign and Commonwealth Office and the Department for International Development) could develop and support, would enhance government capacity for early warning and develop the UK response that these signs should inspire.
It is also a matter of national security and national interest; it would bring down the long-term costs of reacting to atrocities, while simultaneously strengthening international stability and security.  
Given that the UK has and continues to be an advocate for the Responsibility to Protect (R2P) doctrine - rhetorically and practically - the UK would benefit from placing responsibility for such a unit's work within the remit of a Minster. This would not only facilitate stronger UK action but also increase the public profile of the issue. As the UK has already internalised and reaffirmed its commitment to R2P in its 2015-2020 security and defence strategy, this would be a natural next step.
The UK currently has an "R2P focal point", but without the added clout and resourcing that comes with a ministerial portfolio this point person does not yet represent an integral part of the UK's atrocity prevention strategy. The lack of reference to the focal point in the Government's evidence and response to the Foreign Affairs Committee inquiry on the plight of the Rohingya was telling.
The UK has an opportunity to turn the tide by finding solutions to crises and driving forward positive initiatives. Prioritising atrocity prevention should be a matter of importance: one that transcends party politics. It is squarely within the interest, capacity, moral and political international obligation for the UK to implement an atrocity prevention strategy that translates its international commitments and responsibilities into national policy. And it can and should be used as a lens through which to look at its other foreign policy priorities.
It is widely accepted that prevention is better than cure. The UK Government shouldn't need to be sold on this, but if it does, it's very simple: atrocity prevention saves lives.
Find out more about UNA-UK's atrocity prevention work
 Photo: At the Bangladesh border newly arrived refugees just off boats from Myanmar. Mahmud Rahman for CRS/Caritas Bangladesh
More on Keeping Britain global, R2P