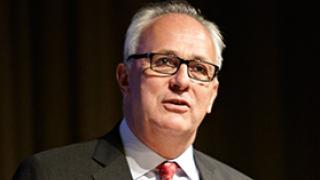 Lord Malloch-Brown, former UN Deputy Secretary-General, and Sir Patrick Stewart, actor and UNA-UK patron, were among the high-level speakers who took part in UNA-UK's sold-out UN Forum event on Saturday 14 July 2012.
With over 1,000 people registered to attend, the event - the biggest of its kind in the UK - was a powerful demonstration of support for the work and mission of the United Nations. The day's discussions served to generate awareness of the challenges facing the UN and ideas on how the Organisation can be equipped to address them effectively.
In his keynote speech, Lord Malloch-Brown gave the audience an overview of 'where next for the UN'. He argued that the current global financial crisis is an opportunity to re-make and strengthen the United Nations.
In his address, Sir Patrick Stewart spoke movingly of his father's experiences in the Second World War, and how he believed that the UN was the best legacy of that period. He emphasised the importance of the UN's work and UNA-UK's role in supporting it, and appealed to the audience to ensure that both organisations "live long and prosper".
The conference opened with a debate on the Olympic Truce and how it could be used to promote ceasefires and aid. As new footage of attacks on civilians emerged from Syria. Dame Margaret Anstee, the first woman to head a UN peacekeeping mission, and Sir Nicholas Young, Chief Executive of the British Red Cross, spoke about the practicalities of transforming the Truce from concept to reality.
The day also featured all-star panels on nuclear disarmament, population and human rights; a session on UN careers; and exclusive excerpts of 'Zero Ten Twenty' - a unique documentary project following the lives of children born during the 1992 UN Earth Summit.
Visit our facebook page for UN Forum 2012 photos and videos - more to follow soon!