You are here: Court of Appeal rules against UK arms sales to Saudi Arabia
20 June 2019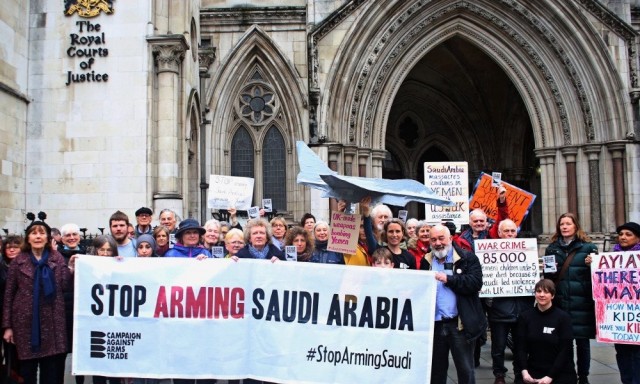 The UK Court of Appeal has ruled that UK arms exports to the Saudi Arabia for use in Yemen are unlawful.
The case, brought by our colleagues at the Campaign Against the Arms Trade, found that the UK failed to adequately assess whether UK exports might be used to breach international humanitarian law in Yemen and therefore found the decision to authorise them to be unlawful. The ruling also found that it was unlawful for the UK to dismiss a wide range of credible evidence provided by UN bodies and human rights organisations.
UNA-UK chair, Lord Wood of Anfield, said:
The UK's often repeated claim to "operate one of the most robust defence export control regimes in the world" has been thoroughly discredited by this ruling.
The landmark decision also undermines the UK's ability to play the role of a champion of the rules-based global system, and in particular of the Arms Trade Treaty - the bedrock of international law governing arms trading.
Furthermore, it damages Britain's credibility in UN and international forums. Only a thorough, public investigation into the shortcomings of the process, and a fundamental rethink of the UK's role with respect to the war on Yemen, can help rebuild the UK's reputation.
In the meantime the UK should immediately handover its "penholder" responsibilities for drafting Security Council resolutions on Yemen to a member state with more credibility on this issue.
More broadly, the ruling sends a strong message to fellow EU nations who are subject to the same EU Common Position on arms exports, on which this judgement was based, that have not already halted exports to Saudi Arabia.
Read More:
UNA-UK's briefing on the humanitarian situation in Yemen
UNA-UK's Yemen Can't Wait campaign
More on Arms Trade Treaty