You are here: Combating Sexual Violence in Conflict
13 March 2013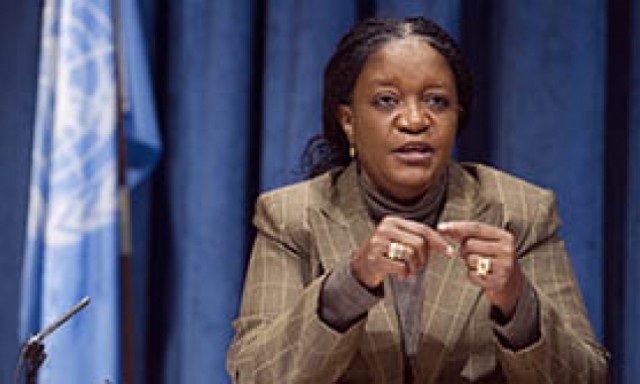 Sexual violence is a serious crime that occurs in all societies in times of conflict or of peace. According to the World Health Organisation, sexual violence is: 'any sexual act, attempt to obtain a sexual act, unwanted sexual comments or advances, or acts to traffic, or otherwise directed against a person's sexuality using coercion, by any person regardless of their relationship to the victim, in any setting'. In addition to being a crime in most national legal systems, sexual violence is also a violation of human rights and, in situations of armed conflict or occupation, a violation of international humanitarian law.
The prevalence of sexual violence in situations of conflict is staggering, while the prosecution rate for perpetrators of such acts is conspicuously low. As Lord Judd (Baron Judd of Portsea), a member of the United Nations All-Party Parliamentary Group (UN APPG), recently stated in a House of Lords short debate, "In the years between 2005 and 2007, 14,200 rape cases occurred in South Kivu in the Congo [DRC]. What is really disturbing is that only 2% of the perpetrators were ever brought to justice." Impunity remains an ominous challenge facing the United Nations and the international community as a whole. 
Yet with growing international commitment to tackling the issue, Secretary-General Ban Ki-moon, in a strong statement of intent, announced his intention, on 31 January 2010, to establish a UN Special Representative on Sexual Violence in Conflict. He nominated Ms Margot Wallström to hold the inaugural position, at the level of Under-Secretary-General. Ms Wallström held the post until June 2012, when she was succeeded by the current Special Representative, Mrs Zainab Hawa Bangura.
The UN Special Representative of the Secretary-General on Sexual Violence in Conflict (SRSG) serves as the UN's spokesperson and political advocate on conflict-related sexual violence and is chair of the 'UN Action' network of UN departments (against sexual violence in conflict). The five priorities for the SRSG's mandate are (1) to end impunity for conflict-related sexual violence, (2) to empower women to seek redress, (3) to mobilize political ownership, (4) to increase recognition of rape and (5) to harmonise the UN's response. 
On 18 February 2013, UNA-UK's Peace and Security Programmes Manager, James Kearney, had an opportunity to talk with Mrs Bangura on her work to date, and the challenges she will be seeking to address during her term. A transcript of the discussion may be found below.
More on Gender equality, Human rights