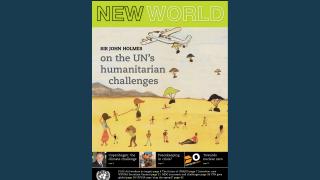 2008 was the deadliest year to date for aid workers.
Sir John Holmes, the UN's humanitarian chief, spoke of the humanitarian challenges facing the UN at UNA-UK's Annual Conference in June 2009. This issue of New World features an abridged version of his speech, as well as a message from Navi Pillay on aid workers who have made the ultimate sacrifice. Dr Bruce Jones analyses the challenges (and opportunities) for UN peacekeeping, and we look at how the Millennium Development Goals are progressing in light of the global financial and food crises.
In this edition we are also launching 'Towards Zero' – our nuclear non-proliferation and disarmament initiative which builds on a long tradition of UNA-UK work in this field. Climate change will be UNA-UK's other main campaigning priority in 2009-10. We are promoting the UN Secretary-General's campaign for a fair and effective global climate deal, and are urging all UNA-UK members and supporters to sign up to the 10:10 campaign and pledge to reduce their carbon footprint by 10% in 2010. UNA-UK is on board – are you?