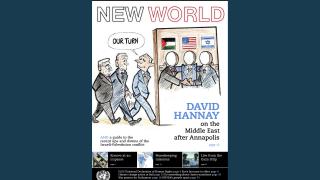 As we leave 2007 behind us it is clear that the UN remains an indispensable institution, fundamental to a more secure and more just world. For this indispensability to continue the UN will need to keep adapting to changes in the international system, to look for ways of doing its job better.
The UN needs, for one, to do more to ensure the full participation of women within peace processes, a case made by Baroness Uddin in one of this issue's Dispatches. For peace to be sustainable, we need to move beyond the conception of women as hapless victims of conflict to an understanding of women as peacemakers.
Peace in the Middle East has proved stubbornly elusive, despite the international community's many bids to resolve the conflict. With each summit expectations have been raised, only to be toppled by the resurgence of violence. In our Essay Lord Hannay asks whether the latest Middle East initiative, launched at Annapolis in November 2007, is simply a reprise of past diplomatic initiatives, or whether it will take the region closer to a lasting and viable solution.