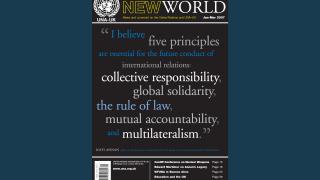 A new year, and a new leader. The baton of "the most impossible job in the world" has been passed from Kofi Annan to Ban Ki-moon. Ban must steer the UN through increasingly uncertain and unpredictable times – and as we enter 2007 a strong, credible and effective United Nations has never been more needed.
The United Kingdom was a key architect of the UN Charter; and, as a major financial contributor to the UN system and a permanent member of the UN Security Council, it has a particular opportunity and responsibility to ensure that Ban is supported in his efforts to make the UN work for the peoples of the world. UNA-UK's Chair, Lord Hannay, breakfasted with Ban on 6 December 2006. His report of this meeting features in this issue.
This New World documents the recent change in UN leadership. It looks back and it looks forward. The issue's cover pays tribute to Annan's penultimate speech, listing his five 'lessons learnt' from a decade in office. The text of this speech, as well as Ban's swearing-in remarks, is reproduced in full. Edward Mortimer, the Secretary-General's long-standing Chief Speechwriter and latterly also his Director of Communications, has provided us with an exclusive article containing his personal reflections on Annan's political legacy.
You will see from this issue that the last three months have been exceptionally busy for UNA-UK, with record attendance at the UN Day launch of our annual parliamentary lobby, successful conferences on nuclear weapons in Cardiff and on the UN's role in anti-corruption in Sheffield, and an expert lunch on the UN's work to prevent genocide. We also hosted a speech by the UK Ambassador to the UN in New York, Sir Emyr Jones Parry, to the All-Party Parliamentary Group on the UN; launched the Young Professionals Network in Wales; and, at the FCO, initiated a series of YPN seminars on the Millennium Development Goals and the private sector.