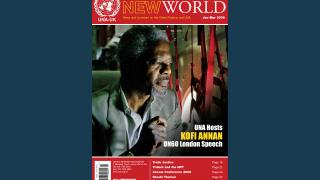 UNA's successes have come from your collective efforts, and UNA's remarkable history as a vibrant membership organisation is one of which we should all be proud. This issue of New World, which we hope will bring back vivid memories, contains samples from the report and members' recollections. It is illustrated throughout with photographs submitted by members.
UNA is entering a new phase of campaign and educational outreach, building upon our successful UK-wide consultation on the reform and strengthening of the United Nations. UN Secretary-General Kofi Annan has agreed to make a speech on UN renewal in London under UNA auspices on 31 January 2006. See inside for details on how to reserve tickets for this event.
We congratulate all UNA members who helped make the Mass Lobby for Trade Justice on 10 November 2005 such a success. Progress on trade issues remains elusive, and we need to maintain pressure on the government to do more to ensure that trade is harnessed for sustainable development. More information on trade justice can be found in this issue.
The UN World Summit in September adopted the principle of the 'responsibility to protect' - arguably one of the most significant developments in international humanitarian law since the founding of the UN, with the potential to prevent tyrants from using state sovereignty as a shield for their human rights abuses or humanitarian neglect. However, the value of the principle depends on its implementation. UNA-UK, at the suggestion of London and SE Region, has urged the Foreign Secretary to use the UK's presidency of the Security Council to table a resolution on Uganda, on the basis of the responsibility to protect, in the light of the atrocities being committed there.
We are delighted that Secretary-General Kofi Annan has granted New World an exclusive article outlining his personal appraisal of the September 2005 World Summit. Those of us who hoped that the Summit would produce a 'San Francisco moment' akin to the founding conference of the UN in 1945 will have been disappointed. But the Summit has nevertheless produced several concrete achievements and could yet lead to a fundamental transformation of the United Nations.