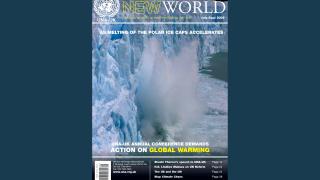 Welcome to the summer 2006 New World which leads with the policy agenda set by the successful and innovative UNA-UK Annual Conference held in April in Durham. Our cover story focuses on climate change – a prominent concern with delegates at Conference and a challenge which will affect all of us on this planet in coming years. We have reproduced the inspiring keynote speech delivered by UN Under-Secretary-General Shashi Tharoor in Durham Cathedral.
Just one month after speaking at UNA-UK's Annual Conference, Dr Tharoor was named India's official candidate for the position of Secretary-General when Kofi Annan's term comes to an end later this year. The continuing lack of female nominees for Secretary-General is highlighted in an article about the Equality Now campaign.
This year UNA-UK has been vocal in following up on the pledges made by governments, including the UK, at the UN World Summit in New York last September. A table featuring some of the commitments made, actions taken and next steps is included in this issue.