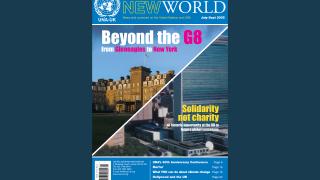 Welcome to the summer 2005 issue of New World. The renewal of UNA is entering a new phase: having built a stronger relationship with the government, expanded our strategic partnerships with NGOs and academia, and stabilised UNA's finances, we are now turning to outreach. To this purpose, we will be developing campaign materials in support of the policy priorities established by Annual Conference and increasing our national presence - in the media, in Parliament, and at a grassroots level as part of a wider membership drive. Youth has played a vital role in these successes, and is the fastest growing sector of our membership.
The 60th anniversary of the UN has been an opportunity to celebrate the achievements of the UN and UNA. The speeches by three generations of UNA members at the 60th Annual Conference at the LSE were most inspiring, especially those of Archie Mackenzie and Shirley Pleydell - two of our members who are also veterans of the negotiations to found the UN in 1945. You can read their speeches inside this issue. But this year is also a crucial moment to focus on what governments have failed to do, and to assert the efficacy and moral imperative of multilateral cooperation.
The last two months have seen the FCOUNA engagement process on UN reform in full swing, with an exciting series of over a dozen public debates having been held across the country (for more details, see inside). The success of these events has been largely due to dedicated staff and volunteers, both at the UNA-UK offices, but also throughout the country at branch, regional and national level, in Scotland, Wales, Northern Ireland and England. I believe that these events can also be seen as an important precedent for holding high-profile UNA events outside of London.