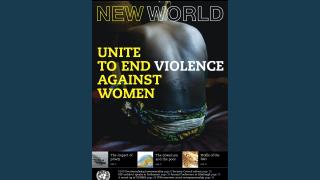 The UN has launched a global campaign to eliminate violence against women. This issue's Briefing argues that violence against women is not 'just' a grave rights violation. By sapping public resources and retarding the formation of human capital, it is catastrophic for economic development.
Development is also the main concern of the Essay, by Alex Evans of the Center on International Cooperation. His article sketches out the ways in which the global downturn is threatening the world's poor. Fifty million more people have been sunk into poverty: the Millennium Development Goals (MDGs) are at risk.
High food prices – another serious threat to the MDGs – persist, in spite of the recession. The UN's Food & Agriculture Organization, the subject of this issue's Profile, is at the centre of global efforts to tackle this challenge.
A few administrative points to note: First, New World now comes out three times a year instead of four – a cost-saving measure introduced by our Board of Directors.
Second, the magazine is getting 'greener'; we have switched to 100 per cent recycled paper (up from 80 per cent).
Third, this is the last issue of New World that I will edit. After nearly six enriching years, I am leaving UNA-UK for a new job. From now on, the magazine will be in the able hands of my colleague Natalie Samarasinghe.