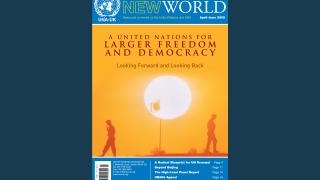 This issue of New World continues to develop UNA's core programme themes.
On the MDGs, Zarin Hainsworth of UNIFEM UK reports on progress since the original UN Conference on Women in Beijing in 1995 and Sir Richard Jolly reflects on the newly published Report of the Commission for Africa. In the area of peace and security, Sarah Carter and Alex Ramsbotham review ways forward for the NPT whilst Nadia Shahbaz turns to the practicalities on the ground, providing a comment piece on the challenges facing peacebuilding in Afghanistan. On human rights, Laura Mucha reviews options for reforming the UN Human Rights Commission, and outlines why the government should sign up to the UN Migrant Workers Convention.
The UN itself continues to come under attack for 'Oil for Food' and allegations of sexual exploitation by peacekeepers. Up to date briefings on these subjects appear on UNA's website.