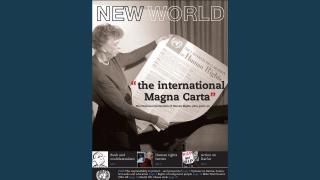 In 2008 the Universal Declaration of Human Rights turns 60. This issue of New World kicks off UNA-UK's commemoration of this important anniversary by taking stock of the legacy of the declaration, which one of its drafters, Eleanor Roosevelt, called "the international Magna Carta for all men everywhere".
And there is another anniversary to celebrate: it has been three years since New World was revamped. During this period we have sought to professionalise the look of the magazine and raise the quality of its content in order to make it an incisive publication with appeal to our members, our partners and untapped audiences. This issue builds on these improvements and introduces a sleeker, more modern format with some exciting new features.
One highlight is the introduction of opinion pieces from some of the world's leading UN analysts. To start us off, Jeffrey Laurenti gives cause for hope that the US may be reembracing the internationalism of Harry Truman and Franklin Roosevelt. Thomas Schindlmayr tells us what the new UN Convention on the Rights of Persons with Disabilities will mean in practice. And Ramesh Thakur argues that the responsibility to protect needs to be complemented by a 'responsibility to prosecute'.