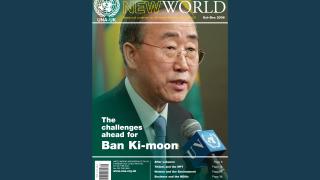 Welcome to the autumn 2006 issue of New World. Autumn is traditionally a time of change and, at the UN, it has been confirmed that Ban Ki moon of South Korea will succeed Kofi Annan as Secretary-General of the United Nations. Lord Hannay has written to Mr Ban congratulating him on behalf of UNA-UK. We look at the challenges ahead for the new Secretary-General in this issue.
The year ahead has in store many challenges for the world and for the UN. Among the most pressing will be to ensure that the peace in Lebanon is sustained and that the international community now focuses its efforts on achieving a lasting settlement for the wider Middle East. We look at the conflict between Israel and Hezbollah and about the vital work being done by UN agencies to help the Lebanese rebuild their lives.
UNA-UK has thrown its weight behind efforts to establish an international arms trade treaty (ATT). The UK – along with the governments of six other countries – is sponsoring a resolution in the General Assembly, meeting now at the UN in New York, calling for the opening of negotiations towards such a treaty. See UNA-UK's website to read a letter from Lord Hannay to the FCO expressing support for an ATT and to read more about our work in this area.