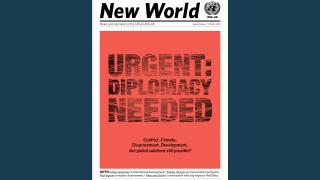 Released alongside the autumn 2013 edition as part of a double issue, this issue examines why the year 2015 could prove a turning point for the world. The international community has set itself an ambitious to-do list, with a fundamental renegotiation of international development goals, a major review of the Nuclear Non-Proliferation Treaty and discussions on a global climate framework all scheduled to take place.
This Special Issue of New World seeks to provide fresh perspectives on these challenges and to evaluate whether global solutions are still within reach.
In our main essay, International Development Secretary Justine Greening sets out the UK's hopes for the post-2015 agenda, supplemented by a briefing on the trajectory of the Millennium Development Goals.