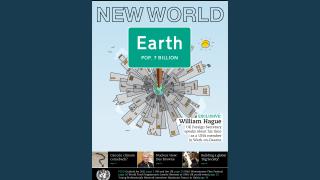 We are delighted to feature in this first 2011 issue of New World an essay by William Hague, UK Foreign Secretary, who describes how membership of the UNA-UK branch in Wath-on-Dearne gave him his first taste of international politics.
To mark the 60th anniversary of the UN Refugee Agency, Laura Padoan makes the case for mainstreaming refugee concerns in international development efforts, while Haji Saghir Alam argues that the UN Millennium Development Goals must put more emphasis on persons with disabilities.
In our cover story, the editor, Natalie Samarasinghe offers her reflections on global population, due to breach the seven-billion mark later this year.