You are here: International Day for the Elimination of Violence against Women- Factsheet
What are some instances of violence against women?
Child marriage - Formal or informal marriage of children is regarded as a form of sexual violence. It can have serious consequences for the health of girls and expose them to great physical and emotional harm. According to UNICEF, if current trends continue, around 39,000 girls a day will marry before the age of 18.
Domestic abuse - Violence at the hands of partners or family members. This is the most common form of violence experienced by women globally according to the UN.  One in three women in the European Union (EU) has experienced some form of physical and/or sexual assault since the age of 15 according to a 2014 report from the EU's Fundamental Rights Agency
Dowry harassment – A dowry is a tradition, largely practiced in South Asia, where a bride is expected to bring a sum of money and gifts to the groom at the time of marriage. Failure to do so, or to bring enough, sometimes leads to harassment by the groom and his family. They may also demand more than previously agreed. 
Female genital mutilation (FGM) - A procedure that involves cutting or removing female genital parts for non-medical reasons. FGM has no health benefits for girls and women. It is harmful and can result in serious health complications. Over 130 million girls and women alive today have experienced FGM. It is practiced for a number of reasons, including cultural and religious beliefs.
Human trafficking - Transporting people away from their communities, mostly to use them for forced labour or in the sex trade. According to the UN, between 500,000 to 2 million people are trafficked annually and 80 percent of the detected victims are women.
Sexual violence in conflict - Instances of rape and sexual abuse in conflict situations. The perpetrators can be armed forces, armed rebel groups or civilians. In many conflict situations, sexual violence is used as a deliberate strategy to terrorise local communities and to humilitate their opponents. Around 20,000 to 50,000 women are said to have been raped during the 1992-5 war in Bosnia. As many as half a million women are estimated to have been raped during the Rwandan genocide in 1994.
How serious are instances of violence against women?
Women aged 15-44 are more at risk from rape and domestic violence than from cancer, car accidents, war and malaria, according to the World Bank. Instances of violence are extremely high. According to the UN up to 70 percent of women experience violence in their lifetime - and it occur in both rich and poor countries around the world.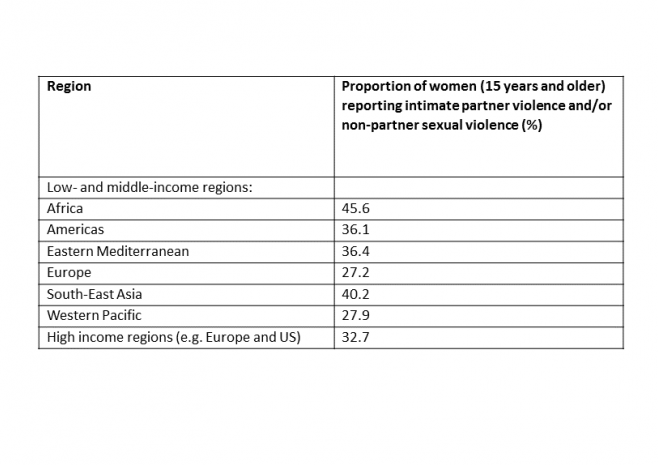 Women who experience violence can suffer serious physical and emotional consequences. They can lose the ability to work or look after their families. Up to 3 million women in the UK experience gender-based violence each year and the cost of domestic violence to the economy in England and Wales alone is £6 billion annually.[1]
How does the UN help?
The UN General Assembly has adopted the Declaration on the Elimination of Violence against Women which calls upon all member states and UN agencies to recognise the fundamental right of women to be free from all forms of violence. Over a 100 countries pledged their support.
The UN Secretary-General's UNiTE to End Violence against Women Campaign marks the 25th of November as the Orange Day.[2] People wear orange on this day and organise activities highlight these issues and showcase efforts to address them
In June 2013, the UN adopted a major decision – called resolution – on preventing sexual violence in conflict. The resolution supports thorough investigations of such situations and prosecutions of perpetrators.
UN Women – the UN agency dedicated to gender equality and women's empowerment – assists governments in developing national action plans to address violence against women, for instance, by helping laws to be adopted. It also provides support to those working directly with victims of violence.