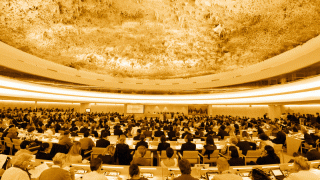 HUMAN RIGHTS
UNA-UK works in support of a values-based foreign policy grounded in respect for universal human rights.
We believe principled foreign policy strengthens the rules based global system and helps protect those at risk of violations.
We believe human rights should be central to all aspects of foreign policy. To this end we integrate human rights into all elements of our work. In particular we closely observe UN reform proposals and consider how they affect the UN's ability to effectively protect human rights. Human rights has been the "forgotten pillar" of the UN for too long.
To make this case we work with a wide range of partners including the British Institute for Human Rights, the Human Rights Alliance, the Commonwealth Human Rights initiative, the Office of the High Commissioner for Human Rights and various UN Special Rapporteurs.
You can find out more about our analysis and how we have been pushing the government and all political parties to take a leading role in this work by looking at the links below.