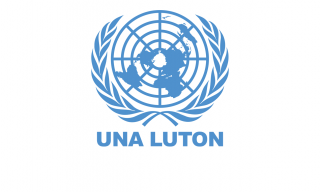 UNA Luton promotes equality, justice, peace, human rights & community cohesion.
Luton is one of the most diverse towns in the UK, with a wide range of ethnicities, religions and cultures. Its people have links to almost every country in the world. Whenever events happen overseas, somebody in Luton is directly affected, and is well informed about the key issues.
Luton also faces socioeconomic challenges in a number of areas including health, housing, education and employment. UNA Luton contributes to the UN's and UNA-UK's goals by drawing on the wealth of Luton's human resources, learning from experience in Britain and overseas and acting both locally and globally.
We work with a wide variety of voluntary and statutory agencies. Our links with the University of Bedfordshire are close since the Vice-Chancellor is our honorary President. Our key foci include:


Eradicating violence against women eg forced marriage & honour-based violence;


Promoting peace through a counter-narrative to the propaganda of violent extremism;


Working with disadvantaged communities to improve their awareness about the importance of education, health and economic engagement;


Promoting gender equality and human rights;


Promoting respect for diversity and community cohesion.


 
In 2015, the Chair spoke at events on forced marriage, International Mother Language Day, International Women's Day and Commonwealth Day and sent an open letter about gender equality to local newspapers addressed to parliamentary candidates.
We are working with educational establishments and community organisations to increase understanding of the Magna Carta and its significance in the modern world. We are also planning a book signing to promote creative writing; a seminar on organ donation to raise awareness and save lives; and an event to observe UN Day.
Join us to take forward the goals of the UN and UNA-UK and make a difference. 
There are currently no events.
Contact
Branch contact

Dr Nazia Khanum

Tel:

01582 566468

Email:

Nkhanum@aol.com