You are here: UNA-UK's Natalie Samarasinghe to join Open Society Foundations
2 November 2021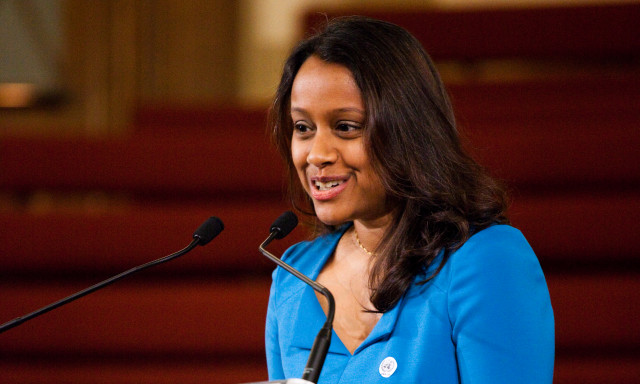 After 15 years with the United Nations Association - UK (UNA-UK), Natalie Samarasinghe will step down as Chief Executive Officer in January 2022. She will join the Open Society Foundations as their first global director of advocacy, as part of its drive to speak with a powerful international voice for justice, equity, and free expression.
Announcing her departure from UNA-UK, Natalie said:
Lord Stewart Wood, Chair of UNA-UK said:
Natalie began working for UNA-UK in 2006, as assistant to director Sam Daws. She then took over the human rights and communications portfolios, before taking on overall responsibility for the organisation's policy work. During this period, she worked on issues spanning arms control and disarmament, conflict prevention and peacekeeping, human rights and humanitarian action, and climate change and sustainable development - including campaigns to ban cluster munitions, close legal loopholes in genocide legislation and create a new UN entity for women's empowerment and gender equality. She also led a transformation of UNA-UK's outreach and communications work, including overhauling its magazine, website and social media presence.
In 2013, she was appointed as UNA-UK's Executive Director/Chief Executive Officer, becoming the first woman, first person of colour and youngest person to serve in this position. Under her leadership, the Association expanded its work on UN renewal and civil society inclusion, as well as its advisory and advocacy work with governments and NGOs.
In the UK, the organisation focused on campaigning for British leadership at the UN, producing election manifestos and research reports on the UK's international commitments and role on bodies such as the Security Council and Human Rights Council. UNA-UK also grew its domestic supporter base - to 30,000 people across the UK - as well as its global network of 1,000 civil society partners. And it launched publications on the climate emergency and sustainable development goals in partnership with Witan Media.
During this period, Natalie spearheaded the organisation's role as a founding member of the 1 for 7 Billion campaign on transparency in international appointments, hosting the first-ever public debates with candidates for UN Secretary-General in 2016. In 2018, she was awarded a Global Challenges Foundation prize for a paper on making the UN more inclusive, which grew into the Together First coalition for global governance reform. She continued to lead UNA-UK's internal transformation, including by securing the organisation's largest-ever grant, instituting a more flexible working culture, and making its staff and Board more diverse.
In 2019-20 she took a leave of absence from UNA-UK to work for the UN in New York, first as speechwriter to the President of the UN General Assembly and later as Chief of Strategy for the UN's 75th anniversary (UN75). Since returning to UNA-UK, she has led the organisation's work ahead of COP26, as well as its engagement with the follow-up process to UN75 - including the global push for a UN civil society champion.
Mark Malloch-Brown, President of Open Society Foundations, said:
Read more:
Photo: Natalie Samarasinghe addresses the audience during an event at Central Hall Westminster with former UN Secretary-General Ban Ki-moon.