You are here: Ban Ki-moon delivers powerful speech to packed Central Hall Westminster
5 February 2016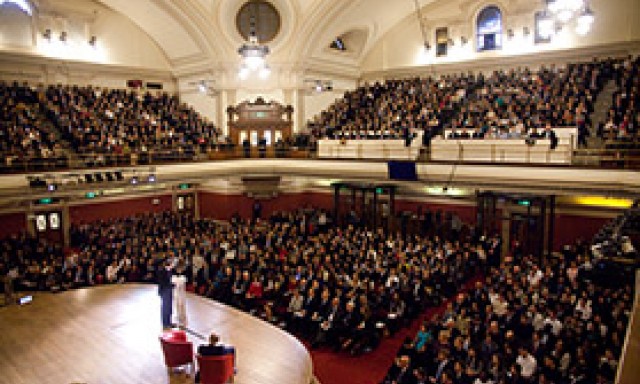 UNA-UK hosted H.E. Ban Ki-moon, United Nations Secretary-General, at a major public event today.  The event, held at London's Central Hall Westminster - where the first UN Secretary-General was elected 70 years ago, was held in association with Chatham House and attended by over 2000 people.
Mr Ban used the opportunity to praise the UK as a leading humanitarian donor, highlighting the UK's recent decision to increase financial assistance to Syrian refugees.  He further noted the UK's historical role helping resettle refugees fleeing conflict and urged the UK to uphold this tradition.
On arms control, Mr Ban described Yemen as a region "awash with weapons", explaining that "we need States that are party to the Arms Trade Treaty to set an example in fulfilling one of the Treaty's main purposes: controlling arms flows to actors that may use them in ways that breach international humanitarian law."
Earlier this week, the UK's International Development Select Committee called on the UK to suspend arms sales to Saudi Arabia after it emerged that the UK had approved £3bn arms sales to Saudi Arabia, the country leading the coalition air attacks, since the crisis began.
Mr Ban also urged the UK to commit more troops for UN peacekeeping operations and highlighted the importance of the Responsibility to Protect to build up national capacities to prevent genocide.
Natalie Samarasinghe, UNA-UK's Executive Director, opened the event by highlighting the impact the UN has had on the lives of millions of people. 
Representing UK Government, The Rt Hon Baroness Anelay of St Johns DBE, described human rights as central to economic growth and called for a coordinated response to help tackle violent extremism.
During the event Sir Jeremy Greenstock, Chairman of UNA-UK moderated an interactive discussion with the UN Secretary-General, incorporating questions from social media and those in attendance on the day.
Click here for a transcript of the Secretary-General's speech
Click here for a video of the Secretary-General's speech
Click here for a transcript of Natalie Samarasinghe's speech
Click here for a transcipt of Baroness Anelay's speech
Click here for photos of the event