A more sustainable world: Water and development
Introduction
Over a billion people do not have access to clean water and at least two million die every year because they lack this essential resource. Five thousand children die daily around the world from diarrhoea alone, but cholera, hepatitis A, dysentery, giardiasis, polio, e-coli, typhoid, salmonella food poisoning, bilharzia, guinea worm and intestinal parasites (such as hookworm, tapeworm and trachoma) can all be the result of drinking unsafe water.
The lack of access to water can have especially dire consequences for the more vulnerable members of society. Children and the elderly are more susceptible to the diseases that spread through unclean water and the relative poverty of women is reinforced when water is difficult to obtain.
The girl or woman who has to fetch water several times a day, from a site far from her home, will not be able to attend school, may be exhausted from carrying the water, and will have little time left over for domestic and income-generating work.
Halving the number of people who lack access to clean water and sanitation by 2015 is one of the Millennium Development Goals. Meeting this goal would have a huge impact on health, life expectancy, infant mortality, and education, but it will also require increased funding and redoubled efforts on the part of governments and civil society throughout the developed and developing worlds. Meeting the goal would save the lives of an estimated 1 million children over 10 years and would cost £5 billion.
Water was the focus of the UN Development Programme's 2006 Human Development Report. The report rejects the idea that water shortages are a result of unavailable resources, and states that 'the scarcity at the heart of the global water crisis is rooted in power, poverty and inequality.'
The same report introduces the concept of water security, 'ensuring that every person has reliable access to enough safe water at an affordable price to lead a healthy, dignified and productive life, while maintaining the ecological systems that provide water and also depend on water.'
Sharing water
The amount of water that a person will use every day is strongly related to their geographic location. North Americans use 400 litres, Europeans use 200 litres, and a person in a developing country will only use 10 litres (the same amount of water that it takes to flush one British toilet and only half the amount that the UN Development Programme estimates is the minimum to meet the most basic human needs).
The UN Environment Programme estimates that water consumption will increase by 40 per cent over the next 20 years, but overuse and climate change have already begun to reduce and redistribute fresh water resources.
It is likely that competing claims on these resources will play an increasingly large role in geopolitics (the relationship between politics and territory) as freshwater becomes more and more scarce. Some wealthy countries, like Kuwait, already import almost all of their water supply, but as access to water changes and/or shrinks, poorer countries will have a much more difficult time securing this basic resource for their populations.
Problems related to shared water resources will not be new, nor will they be limited to disputes over access. Throughout history, water resources have been targets during conflict. Dams, reservoirs, pumping stations, irrigation systems and other water installations have come under attack as a way to end sieges and to weaken the resolve of civilians. Increasingly, there is the threat of terrorist attacks carried out against water targets, because of their essential role in modern life.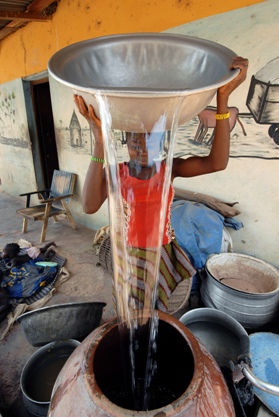 Water conflicts tend to centre on three main issues: the amount of water (water quantity), infrastructure (dams, canals, etc.), and water quality. Water quantity rights form a major element of the conflict between Israel and its neighbours (including the Palestinian Territories).
A significant amount of Israel's water comes from underground aquifers that are located in the West Bank and Israel's appropriation of this resource has had the effect of restricting water use by Palestinians. Water from the Golan Heights (and specifically, the Sea of Galilee) is one of the reasons why both Israel and Syria continue their dispute over the area. Israel's damming of the River Jordan exacerbates Israel's conflict with Lebanon, which relies on the Jordan as its main source of fresh water.
Turkey and Syria almost went to war in the late 1990s over plans to dam the Euphrates River. India and Bangladesh (formerly East Pakistan) have had ongoing arguments over control of the Ganges River since the partition of the subcontinent in 1948. In Africa, the dramatic reduction in size of Lake Chad over the past 45 years (it is now one-tenth of its size in 1963) could cause problems in relations between Niger, Chad, Cameroon and Nigeria.
Meanwhile, access to the water in the Nile River has been a source of both conflict (and cooperation) between the ten countries - Burundi, the Democratic Republic of Congo (DRC), Egypt, Eritrea, Ethiopia, Kenya, Rwanda, Sudan, Tanzania and Uganda - that make up that river's basin.
Pollution, as an element of water quality, is another problem to consider. Upstream countries may contaminate the water and differing water standards can be difficult to reconcile.
Issues to Consider
What is water use like in my country? Are there shortages? Does the country have a high rate of water consumption?
How do most people get their water? How far do they have to travel? How much does it cost? What percentage of people does not have adequate access to clean water?
What are my country's source(s) of water? How abundant is it? Does the country import or export any water?
Does my country have any trans-boundary waters (lakes or rivers that are part of the territory of more than one country)? Are we involved in any disputes or cooperative projects related to those waters?