School resources (for organisers)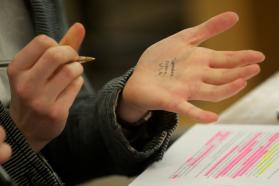 The basic principles of Model UN remain the same, regardless of the UN body being modelled, or of the size or age of the group.
Participants are assigned a UN Member State. They assume the role of that country's diplomats at whichever UN body is being enacted. The delegations represent the views of 'their' country, reflecting that country's national interests, rather than their own personal opinions on an issue
The delegates research their country's position on selected topics, paying particular attention to their country's perspective on the topics to be discussed at the Model UN. The topics are issues of global importance – such as provision of clean water, economic justice or the Israeli-Palestinian conflict
When organising a Model UN event for schoolchildren, it is best to cut down the rules of procedure to a few simple guidelines on diplomatic behaviour. The Chair should be a teacher or older pupil who has taken part in Model UN events in the past. As long as the Chair allows each pupil to speak freely, and guides the discussions towards a vote on a resolution, there is no need to adopt complicated rules of procedure for a school-based Model UN:
Participants will be divided into groups of three.

Each group will be assigned a UN Member State. The Chair must ensure that pupils stay 'in character' throughout the event.

It is up to the Chair's discretion to allocate speaking time to the delegates when in session.

A delegate may ask the Chair to speak by raising their hand.

There should be no talking in another delegate's allocated speaking time. In this way everyone will get a chance to make their opinions heard.