Organising a three day Model UN event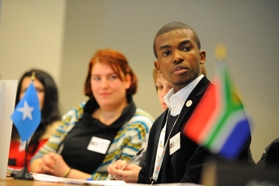 Bigger conferences are likely to include delegates from many schools, universities and other organisations, some of whom may travel a significant distance to attend. As a result, it is important to keep in touch with your delegates in advance of the conference, by e-mail or by posting information on a website. It is probably a good idea to have more than one topic on each committee's agenda. Some conferences have two and others have three, and topic guides should be arranged in advance to help the delegates prepare.
Conferences that last more than one day may also have to arrange or help delegates find accommodation and probably need to arrange a social event for the delegates. This may be a dinner, renting out a pub or club, a formal or informal dance, a boat party or some other kind of event where delegates can get to know each other outside of committee sessions.
The key to a good, large conference is to have high calibre Chairs for the committees, who can enforce the rules of procedure but allow enough flexibility to encourage the work of the committee. Depending on the size of your conference, and the availability of staff, you may even want to run more than one committee concurrently. Just ensure that your delegates know which committee they will be on and which topics they will be discussing in advance!
Here is an example of a timetable for a three day conference, based on the 2007 schedule for the London International Model United Nations conference:
Day 1
12:30-3:00pm - Registration – Delegates collect badges, conference handbooks, placards and any other materials.
2:30-3:30pm - Opening Ceremony – Includes a welcome from the Secretary-General, a keynote speech by a distinguished guest, introductions, and announcements.
4:00-4:45pm - Parliamentary Procedure Workshop – An experienced delegate leads a short training session for new delegates or those who wish to brush up their parliamentary procedure and resolution writing before committee sessions start.
5:00-8:00pm - Committee Session – Following the roll call, delegates debate and set the agenda. The first few speakers will spend time explaining their country's broad position on the issue and begin to frame the debate, by suggesting that the committee address certain aspects of a problem, its causes and solutions. The committee will probably also spend time in informal debate, either moderated or unmoderated caucusing. Some conferences encourage delegates to draft resolutions and working papers beforehand and use these first committee sessions as time for delegates to 'lobby' one another to support their ideas. Others prefer resolutions to be the product of the whole committee and do not allow the use of resolutions that have been prepared in advance.
10:00pm - Social Event
Day 2
9:00am-1:00pm - Committee Session – By now, committees should be starting to address the heart of their topic and may be using periods of unmoderated caucus to begin writing working papers and/or resolutions. Once these are introduced, the committee can continue discussing the drafts and begin to craft and consider amendments.
1:00-2:00pm - Lunch Break
2:00-6:30pm - Committee Session – The committee should probably be finishing work on the first topic during this session, if two topics are to be discussed. The process of amending the draft resolution should continue and a final vote may be taken.
8:00pm - Social Event
Day 3
9:30am-12:30pm - Committee Session – Committees will probably begin working on a second topic during this session. Everything will happen much faster, because of the time constraints and because delegates are more comfortable with each other and with the process.
12:30-1:30pm - Lunch Break
1:30-4:00pm - Committee Session – This is usually the most intense and fast-paced session of the conference. Delegates are rushing to get their second resolution passed and tempers may flare. Delegates who oppose the second resolution may be using the rules of procedure to obstruct the process. This is also a good time to hand out and have delegates complete evaluation forms.
4:15-5:00pm - Closing Ceremonies – This is a time for the Secretary-General to thank everyone for attending and for helping with the conference. Chairs may want to speak briefly about the work that their committees accomplished (as well as sharing particularly amusing anecdotes). Some conferences will give out awards, show photos taken over the course of the three days or hold a General Assembly plenary session for abbreviated debate and passage of the resolutions that each committee has written.
Rules of procedure
For longer Model UN conferences, and for events with experienced delegates, you may need to agree on rules of procedure in advance. At 70 pages, the UN General Assembly's rules of procedure may seem slightly daunting! However, you should be able to use a slimmed-down version. You will also need to agree on rules of parliamentary procedure, which govern speeches during the conference. Click here for more information. [Rules of procedure PDF]